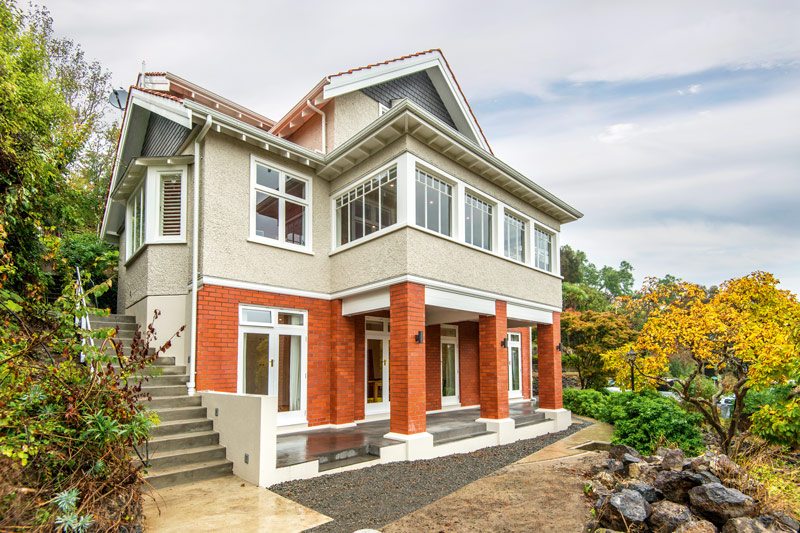 The Brief
After the Christchurch earthquakes that badly affected Rob and Mel's home, they were in dire need for serious repairs. Added to the scope of works were significant internal and external alterations. Two thirds of the floor, supporting walls and foundations needed removing in preparation for replacements. Alongside the repairs and remodelling, they wanted to mine into the existing hillside to create more rooms and space. The family wanted to keep as much of the heritage aesthetic as possible while ensuring on site safety throughout the building process.
During
Finding the right team to execute this project was crucial for Rob and Mel. With tasks such as mining into the hillside and undergoing new support systems for the skeleton, this was no easy feat.
Paul Reed Homes offered quality assurance with our commercial construction knowledge and liaised weekly with architect and engineer. Paul Reed Homes kept in contact with the family on the project's progress through weekly meetings. This helped Rob and Mel work through each alteration and maintain the house's character and traditional structure.
Our team brought its expertise and systems into each meeting with the family to build a personal relationship and trust that would make the building of Rob and Mel's home tailored and efficient in the building process. Architect and builder updates were exchanged regularly to support these meetings and add to the family's involvement and decision making. Safety regulations were second nature to this highly trained building team which was outlined by the family as a primary step to prevent any injuries and future risks.
With expertise comes little trial and error. Paul Reed Homes were able to accurately follow client, architect, and engineer plans, specifications, and vision. This meant identifying and prioritising Rob and Mel's wants and needs, such as maintaining and enhancing the home's character.
The Result
As a result of our Paul Reed Homes systems and planning, Rob and Mel were delivered a safe, warm home that reflected their original brief. Furthermore, their home was entered into House of the Year awards, winning a local Gold, Category win (Over $500,000.00 Renovation), Supreme Renovation Award and finally the National Gold Reserve Award! Rob and Mel were rewarded in their choice of builder with reduced stress and expert knowledge.